Out-of-Home Interactive
Future Colossal is an award-winning innovation lab working with brands and partners from all over to create the next generation of out-of-home advertising with interactive and immersive storefront windows, signage, and pop-up experiential activations.
With years of experience building interactive touchless installations that deliver KPIs for partners – we connect brand messaging with unique and surprising creative executions that stop pedestrians and consumers in their tracks.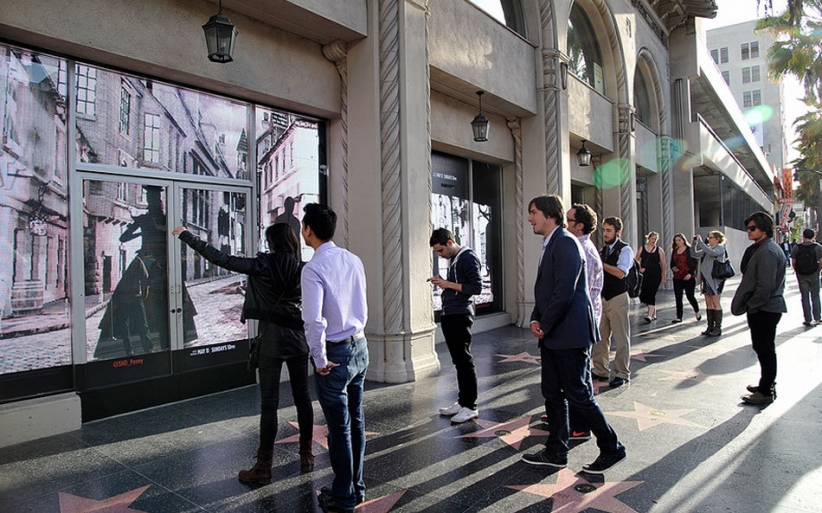 What we do:
Interactive Storefronts
Our award-winning interactive DOOH campaigns bring events to life and engage audiences wherever they are.
Multiplayer Gaming
We create game experiences of all kinds inspiring participants to compete or collaborate in OOH or at-home experiences.
Touchless Interactivity
We create hygienic outdoor and streetside experiences that let people engage with their whole bodies without needing to physically touch any shared surfaces.
Experiential Marketing
Create engaging experiences that are designed to connect audiences with brand messaging on a deeper and more memorable and impactful level.
Retail
Activations
Whether activating an outdoor or indoor space, we can create retailtainment opportunities to any vacant storefront, or add interactive vibrance to floorspace.
Earned
Media
Our DOOH Installations are sharable by design, eye-catching opportunities that can also include photo-ops, portrait galleries, and exclusive content.
BMWi: A Window into the Near Future



Activating with projection, vehicles, interactive windows and more, we create touchless experiences that let audiences engage with your content in ways they've never imagined.
We virtually transformed traffic on NYC's Sixth Avenue into BMW electric vehicles and showed the potential total CO2, fuel, and cost savings with BMW Window Into the Near Future. Low-angle cameras tracked all passing traffic and pedestrians with precise accuracy while custom software analyzed vehicle type, displaying BMWi's in place of all vehicles except the iconic NYC taxi. Complex tracking algorithms brought beautiful synchronization between the screen and the street in all conditions. Constantly changing shadows, lighting and weather conditions, pedestrian flow and traffic patterns made for one of the most challenging computer tracking environments we've experienced. The impressiveness of the campaign was proven true when it won multiple big industry awards, including Adweek's Project Isaac, MediaPost's Digital Out-of-Home, Obie, Clio, IAB MIXX, Cannes, and DSE Apex.
Get Inspired:
We understand how to connect audiences to brands through unforgettable experiences. Get inspired with a tase from some of our past work.
Gestural Experiences

Use touch-less interactions and high-quality visuals to create unique full body experiences.

Sensory Immersion

Combine fabrication and 4D sensory technology to create immersive environments.

AI & Interactive Narratives

Integrate AI into interactive narratives for unmanned attractions to immerse guests.

Multiplayer & Co-op Games

Bring games to life for multiple players in competitive and cooperative branded gameplay experiences

Projection Environments

Transport guests to fictional worlds and activate underutilized spaces with high-res projection.

Shareable User Content

Empower viewers brand evangelists to create and share content for the world to see.